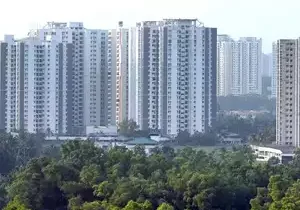 A Home Away from Home

10th October 2023

By Glynda Alves Last Updated: Oct 10, 2023, 04:09 AM IST
Synopsis: The wealthy are rekindling their interest in acquiring properties in gateway cities such as Dubai, London and New York; and select countries like Austria, Egypt and Jordan, which offer citizenship through investment programmes.
Real estate investment often stands out as the best route for wealthy Indians looking to become global citizens.
Akash Puri, director, International Business, India Sotheby's International Realty, says that there is a new energy in international real estate. The wealthy are rekindling their interest in acquiring properties in gateway cities such as Dubai, London and New York; and select countries like Austria, Egypt and Jordan, which offer citizenship through investment programmes. Antigua & Barbuda, Dominica, Grenada, Malta, St Kitts & Nevis and Saint Lucia are also popular options among high-net-worth individuals. Dubai and Portugal remain the preferred destinations for wealthy Indian families.
According to the company's Luxury Outlook Survey 2023, 11% of India's affluent population are actively exploring real estate opportunities in foreign destinations. This signifies a substantial increase from the negligible percentage observed at the close of 2021.
"Dubai, with over 30% of its expatriate population being Indian, has long been regarded as a 'home away from home' for Indians. Purchasing property serves as a direct avenue for investing in the country and securing a golden visa," Puri says.
After the reduction of the minimum investment threshold in real estate from AED 10 million to AED 2 million by the Dubai government, this opportunity has become more accessible. "Dubai's absence of capital gains tax has further heightened the appeal of real estate investments in the city. When coupled with a business-friendly and tax-friendly environment, these factors solidify Dubai's standing as a compelling destination for real estate investment," adds Puri.
According to data from the Dubai Land Department, Indian investors accounted for 20% of all of its property transactions in the first quarter of 2023, up from 15% a year earlier. Rizwan Sajan, founder of Danube Group, says Indians are looking for affordable luxury and branded residences.
Due diligence is a must, says Sajan. "HNIs looking to invest need to understand the market. Research the current real estate market trends in Dubai. Understand factors like property values, rental yields and potential for capital appreciation. Study the areas that have appreciated in the last few years. If you're buying a resale property, make sure it is approved for foreign ownership. Confirm that the property has all the necessary approvals," he advises.
In Europe, based on Citizenship Invest data in 2022, Portugal was the most sought-after country (60%) where high-net-worth Indians invested in real estate, to obtain the Portuguese golden visa. Portugal accounted for 55% of the total real estate investment applications from Indian nationals, followed by Dominica, Grenada, St Kitts & Nevis and Antigua, in that order.
With the legislation in Portugal now changing, applicants can shift their focus to an investment in private equity or venture capital funds for a minimum of 500,000 euros, or a non-refundable contribution of at least 200,000 euros to a foundation, to obtain the golden visa.
"Apart from Portugal, Caribbean citizenship via the real estate programmes of Dominica, Grenada, St Kitts & Nevis, and Antigua & Barbuda remained preferred choices by Indian investors. In most of these countries, the real estate option starts at a minimum of $200,000 (for a hotel share for example) and $400,000 for free hold. St Kitts & Nevis real estate options start at $400,000 by law," said Veronica Cotdemiey, CEO, Citizenship Invest. Caribbean programmes have continued to pique the interest of HNIs, she says. The company focuses on reputable brands such as Kempinski, Hilton, Park Hyatt and Six Senses – all government approved to qualify for the Caribbean Citizenship by Investment programme.
Whether Dubai, Europe or the Caribbean islands, investors prefer the minimum budget and seek to fulfil the investment requirements with the most cost-effective option. For most Caribbean programmes, that is $200,000 and for Portugal, it starts at 280,000 euros. "However, applicants are willing to explore higher-priced real estate opportunities. Their motivations may range from seeking more luxurious accommodations to considering higher potential returns on investment," says Cotdemiey.
Dubai-based Sam McCone, managing director at McCone Properties, says for HNIs, finding the "right" home is important, so they are open to stretching the budget. "Many come to make Dubai their home and may buy a villa on the Palm Jumeirah for AED 25,000,000 or more. Waterfront property has become exceptionally popular. This is why many projects which aren't by the coast are building crystal lagoons so the villas or apartments in those developments can also enjoy 'beaches' at their doorsteps. Smart home technology, modern designs, large plots are other elements that many HNWI will look out for."
Luxury residential properties are the most attractive real estate options for Indians looking to invest, says Paul Singh, director at CS Global Partners. "Vacation homes, condos or apartments in popular tourist destinations — some investors buy these properties for personal use, while others rent them out. In St Kitts & Nevis, Indian HNWIs can choose between the Developer's Real Estate Option which can be re-sold, once, to another purchaser who wants to apply for citizenship by investment. Or, they can consider an Approved Private Home, which can be a condominium or single-family dwelling," says Singh. These include high-end properties, such as luxury villas or penthouses in exclusive locations, often sought after by wealthy investors looking for prestige and potential returns.
Global Indian is part of a series of articles exploring questions about citizenships, business access and professional advantages in a world without borders.