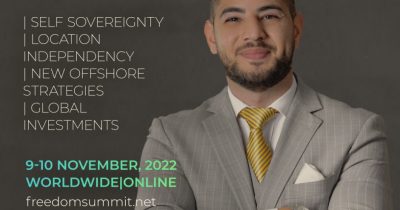 Citizenship Invest in the Freedom Business Summit 2022 – See you there!

14th October 2022
Source -
We are happy to announce that we will be speaking at the annual Freedom Business Summit 2022!
Freedom Business Summit 2022 is a global summit for those who are looking for ways to take their freedom back, mitigate geopolitical risks, protect their wealth and build a location independent lifestyle.
This year the Freedom Business Summit will bring together 2000+ worldwide freedom entrepreneurs and they will be speaking about: New Offshore Strategies, Second citizenship, Global Incorporation, Real Estate and Investment Strategies, Self Sovereignty, Location Independency.
I will be speaking about "How to Acquire a Second Citizenship by Investment" and inviting you to join the event. The FBS 2022 is an online event and you can join from any part of the world.
Save these dates: 9-10th of November 2022.
It will be a 2-day event, 20+ Speakers, 3000+ Participants from 20+ Countries!