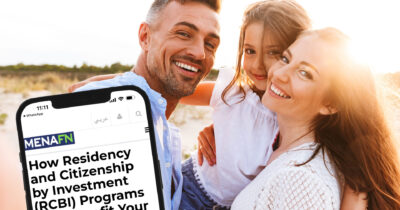 How Residency and Citizenship by Investment (RCBI) Programs Can Benefit Your Next-Generation

17th November 2023

Date 11/16/2023 8:51:28 AM
(MENAFN– Karim Geadah) Written by Veronica Cotdemiey, CEO, Citizenship Invest
In a world of rapidly changing economic landscapes and financial uncertainties, one of the most powerful ways to ensure a prosperous future for your family, not only for the current generation but also those to come, is by building generational wealth. While the concept of accumulating wealth for the benefit of future generations is age-old, the methods and opportunities available today are more diverse than ever. Among these opportunities is one of the greatest assets which is often overlooked but carries immense potential – a second citizenship or residency by investment.
Generational wealth is not just about leaving behind a financial legacy; it's about providing your loved ones with the tools to succeed, thrive, and make a positive impact on the world. Residency and citizenship by investment programs offer a unique and strategic means to achieve this goal.
Residency and Citizenship by Investment (RCBI) programs have gained popularity in recent years as a means of obtaining residency and/or ultimately citizenship in another country by making a significant financial investment. The trend is evident globally, with reports pointing to the skyrocketing number of wealthy individuals obtaining second passports or residency over the past years as a 'plan B' for their families.
The substantial and immediate benefits of a residency or second passport underscore why this pathway is becoming increasingly essential for the creation of generational wealth. In this article, we will explore how RCBI programs can secure a brighter future for your future generation.
Diversification:
The foundation of generational wealth is diversification, both in terms of assets and geographical scope. Historically, the most successful wealth portfolios have been those with their roots planted in multiple countries. Second citizenship and residency by investment programs enable this diversification, securing your family's global presence. These programs can serve as a safety net for your descendants during unexpected political, economic, or security crises, providing refuge and security in times of turmoil. It's your insurance policy to ensure your legacy remains intact when unpredictable events occur in your home country.
Global Mobility:
A residency or second passport from a country with a robust ranking can significantly enhance your next generation's global mobility. Travelling visa-free or with visa-on-arrival access to numerous countries is within reach, making it easier to explore the world, conduct business internationally to key financial hubs, and connect with people from different cultures. This global mobility can be a tremendous asset in an increasingly interconnected world.
Unlocking Boundless Opportunities:
Envision your descendants holding passports or residencies in countries spanning continents, allowing them to immerse themselves in different cultures, languages and customs providing them with an edge. Among these advantages is access to world-class education and top-tier healthcare systems ultimately enhancing overall quality of life. Furthermore, it unlocks opportunities in diverse business environments, paving the way for broader career prospects.
Tax Efficiency:
Tax optimization is a central pillar of wealth management. It is where second citizenship and residency by investment programs shine. Many countries offering RCBI programs have attractive tax policies and special tax regimes, which can contribute to considerable tax savings for your family over generations. In some cases, tax obligations can be significantly reduced or even eliminated, allowing the preservation of your wealth across generations.
Priceless Inheritance:
A second citizenship and residency endure time and can be passed down through generations. They are not subject to the same limitations as other assets. A well-planned generational wealth strategy can ensure that your family reaps the benefits of your investments in perpetuity and by offering your family access to the world's resources and opportunities, you provide them with the tools to continue expanding that wealth. Your descendants will inherit not just a legacy but also the key to accessing opportunities all around the world.
In a world where financial strategies shift, regulations evolve, and market conditions fluctuate, RCBI programs stand not only as wise investments, but a legacy that transcends time and borders.
As the world becomes more interconnected, the opportunities and advantages of holding a second passport are increasingly valuable for the next generation. Reach out to one of our experts and take the first step towards investing in your family's future and their potential for success and prosperity on a global scale.
MENAFN16112023007446016065ID1107439416