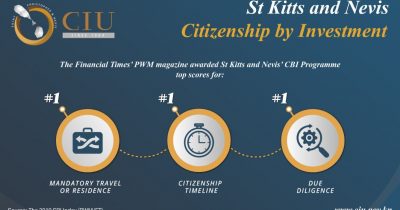 Industry News 'St Kitts and Nevis CBI Programme is Swift and Secure'

23rd October 2020
Source - WIC News
Swift and Secure
One of the reasons for St Kitts and Nevis' roaring success is its commitment to efficient application processing. In the 2020 edition of the CBI Index, a Financial Times publication that compares the world's active citizenship by investment programmes, St Kitts and Nevis was the only country to receive a perfect score for citizenship timeline. That is – the time taken to receive citizenship under the Programme.
The quickest, most direct route to citizenship under the St Kitts and Nevis Citizenship by Investment Programme is via a one-time contribution to the Government's Sustainable Growth Fund (SGF), commonly known as the 'fund option'.
Applications submitted under the fund option are prioritised by the Government, as SGF funds are used to improve all aspects of life on St Kitts and Nevis, including to mitigate the effects of climate change and support initiatives involving education, tourism, and entrepreneurship. Additionally, fund contributions are made directly to a Government-held bank account without the need for intermediaries and onerous contracts and agreements.
As such, under the fund option, applicants frequently receive approvals in three months after submission of an application. However, for the busy investor wishing to obtain citizenship in an even faster timeline, St Kitts and Nevis offers the industry's only guaranteed fast-track route to citizenship. For an additional cost, the Accelerated Application Process (AAP) allows successful applicants to obtain citizenship in as little as 60 days from application submission. Importantly, the AAP is only available for applications made under the fund option.
Despite this speedy application turnaround, St Kitts and Nevis retains a commitment to performing high-level due diligence on all applicants to the Programme, and it should be noted that applications made under the AAP are still subject to the same scrutiny as those submitted via the normal route.
St Kitts and Nevis' commitment to conducting stringent vetting was also recognised in the 2020 CBI Index. In fact, St Kitts and Nevis has obtained a perfect score for its due diligence procedures every year since the inception of the Index in 2017. This is because due diligence in St Kitts and Nevis follows a multi-tiered structure – involving the Programme's Authorised Persons, internal Citizenship by Investment Unit staff, external due diligence firms, partner governments, and international and regional law enforcement agencies (such as Interpol and the JRCC).
External due diligence firms are specifically selected for their presence in key jurisdictions, such as the United Kingdom and the United States, and perform on-the-ground checks to build an in-depth profile of each applicant. Applications that are flagged by the Programme's due diligence partners will be rejected, ensuring the protection of St Kitts and Nevis and its partner nations.
Affordable
On top of its speed and security, the St Kitts and Nevis Citizenship by Investment Programme features an attractive minimum investment threshold. Under the fund option, a single applicant may obtain citizenship for a US$150,000 contribution.
The fund option is particularly affordable for large families and is currently subject to a Limited Time Offer valid until 15 January 2021. Under the offer, families of up to four can obtain citizenship for US$150,000 – temporarily reduced from the previous minimum contribution of US$195,000 for a typical family of four.
No Time to Lose
If 2020 has taught us anything, it is that there is no time like the present. Economic citizens of St Kitts and Nevis have access to a plethora of benefits including strong mobility rights, high quality education and healthcare, and a safe environment for themselves and their families to call home should they need to. With a contribution to the Programme's fund option, citizenship of St Kitts and Nevis could be yours in just 60 days.