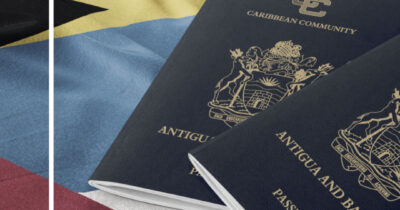 Why Now is the Best Time to Apply for Antigua and Barbuda Citizenship

12th October 2023

All you need to know about what makes this citizenship by investment program popular.
Antigua and Barbuda, a captivating Caribbean nation, is fast becoming a sought-after destination for those in pursuit of a second citizenship. With its pristine beaches, warm tropical climate, welcoming atmosphere and family friendly policies, it's no wonder that many individuals and families are considering applying for Antigua and Barbuda Citizenship.
What makes this moment particularly opportune? Let's delve into the compelling reasons why now is the best time to embark on this exciting journey.
Most Cost-effective Program for Bigger Families
The Antigua and Barbuda Citizenship by Investment Program is renowned for its affordability, making it an attractive option for larger families. Compared to other citizenship programs, Antigua and Barbuda's Donation option offers a cost-effective path to obtaining a second citizenship for your entire family. This means you can secure the future of your loved ones without breaking the bank.
From a single applicant to a family of 4, the investment contribution is USD 100,000 plus government fees of USD 30, 000. For a family of 5 or more, the contribution is USD 125, 000 plus government fees of USD 30, 000 with an incremental amount of USD 15, 000 from the 5th applicant onwards.
Simplest application process
Keeping these in mind, the time to apply for Antigua and Barbuda Citizenship has never been better. Unlike its Caribbean counterparts, Antigua and Barbuda kept the simplicity of its process and has not implemented mandatory interviews yet, this might change in the near future so there is no better time than now to seize the moment to apply to its citizenship program.
Sibling Inclusion Regardless of Age
Antigua and Barbuda's Citizenship Program stands out as the only program that allows siblings to be included in a single application, irrespective of their age. This unique feature provides families with the opportunity to secure citizenship for their siblings no matter what age they are, ensuring that everyone can enjoy the benefits of this beautiful Caribbean nation. Antigua and Barbuda is at the moment one of the two Caribbean CBI programs which accept siblings alongside Grenada, however Antigua does not have any age restrictions while Grenada requires for the sibling of the Main Applicant or spouse to be at least 18 years old.
Also, Antigua is the only program that accepts siblings who were divorced or widowed, even those who have a child or children, so long as they are not currently married.
Reputable Program with Well-Controlled Developers and Agents
The program's reputation speaks for itself. Antigua and Barbuda have consistently maintained a high level of integrity and transparency in their citizenship by investment program. The government carefully vets developers and agents, ensuring that applicants are dealing with reputable professionals throughout the process.
An Advocate for Learning and Education
Antigua and Barbuda is the only CBI program with the option to invest for the benefit of education. The University of the West Indies Fund (UWI) avenue serves as a funding mechanism for the establishment of UWI's fourth landed campus.
Prospective participants in the Citizenship by Investment Programme selecting this option will be obliged to make an investment of US$150,000 for a family consisting of six (6) with an incremental amount of USD 15, 000 from the 7th applicant onwards.
It is worth noting that there is a minimum requirement of six family members per application.
By opting for this program, one family member will be eligible for a one-year scholarship, covering tuition costs exclusively, at the prestigious University of the West Indies.
Language Advantage – English and French
Communication is key when relocating or investing in a new country. In Antigua and Barbuda English is the official language, widely spoken and understood by the local population, making it easy for newcomers to integrate seamlessly into the community. Additionally, French is also commonly spoken, adding another layer of accessibility and convenience.
Reputation and Celebrity Appeal
Antigua and Barbuda's appeal extends beyond its natural beauty and warm climate. Many celebrities, including Oprah Winfrey, Giorgio Armani and Robert de Niro, have chosen to call this paradise their second home. This not only attests to the country's prestige but also highlights its desirability as a destination for those seeking luxury and exclusivity.
A strong Real Estate Investment
Robert de Niro who chose to build his in Barbuda, is not alone. Investors from all over the world have invested in this paradisiac country. The Real Estate market has been strong even before the launch of Antigua's Citizenship by Investment Program in 2013.
In addition to the program's affordability, sibling inclusion policy, reputation for transparency, strong real estate investment, appreciation for education, its allure to celebrities and bilingual advantage, all make it an opportunity worth taking.
Reach out today and embark on a journey that promises Caribbean charm, unforgettable experiences, and a truly extraordinary second home. Your dream of becoming a citizen of Antigua and Barbuda is closer than you think!