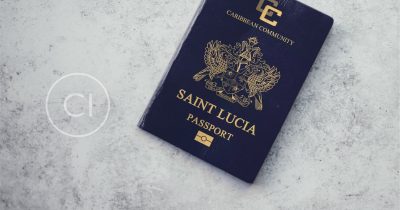 Why you need to get a St Lucia Passport this year

14th March 2023

If you are on the search for a strong second passport you can acquire, St Lucia could be a good choice. Its citizenship by investment programme (CIP) is currently one of the youngest among CBI programs having been launched in 2014 only but despite being relatively new in the investment migration business, already the CIP of St Lucia has gained global recognition.
According to the 2022 CBI Index, St Lucia ranks second in the CBI programme after Dominica and St Kitts which tied for first place. At closer inspection, St Lucia certainly deserves this spot.
A sun-kissed paradise
St Lucia is an island state located in the Caribbean. A popular destination for those seeking a sun-kissed vacation hideaway, the country offers spectacular sites from the mountains down to gorgeous beaches. It is known for its two distinctive mountains called the "Pitons", natural parks and botanical gardens as well as for its drive-thru volcano.
A former British colony, St Lucia gained its independence from Great Britain in February 1979. It is a member of the Commonwealth nations, the UN, The Caribbean Community (CARICOM) and the Organization of Eastern Caribbean States (OECS). English is widely spoken, and the locals speak French Creole, having been under French rule before the British took over.
Since its independence, St Lucia is considered a small developing island. Its economic growth has been largely due to the island's tourism industry. Agriculture also plays a vital role in its economy, particularly the banana industry.
In 2022, the country enjoyed a slight economic rebound with a growth of 12.2%. This is mainly due to the government's commitment to attract foreign investments into its economy. Among the nation's leading FDI (Foreign Direct Investment) programmes is its citizenship-by-investment programme.
A globally attractive programme
St Lucia has one of the most attractive CBI programmes globally. With four investment options to choose from, it offers amongst the lowest minimum investment outlay of US$100,000 as a non-refundable donation to the National Economic Fund (NEF). Established in 2015, the government created the fund to receive financial funding to help the national development agenda.  This investment option has become the most popular for those seeking to acquire their St Lucia citizenship.
A second option under the CIP is to purchase an approved real estate development project with a minimum value of US$200,000. This must be held for a minimum period of five years.
The next CIP investment option is the purchase of non-interest-bearing government bonds with a minimum value of US$300,000. This, too, must be held for a minimum period of five years. This option is perfect for a big family as  one can add as many dependents as he can in one application with the same investment amount.
The fourth investment option is to participate in an approved enterprise project with a minimum contribution of US$3.5 million.
Processing time usually takes just three to four months.
Benefits of a St Lucia citizenship
Having a St Lucia passport assures you of free movement to 146 countries, including the Schengen states, the UK, Hong Kong and Singapore.
You can also maintain your original citizenship as the country has no restrictions on dual citizenships.
As the main applicant, you can apply for your family members and dependents to become citizens, too.
Tax-wise, St Lucia is an investor's haven. There are no taxes on capital gains, foreign income and inheritance.
Investing in the future 
Consider a second passport as your ultimate back up plan. Whether to secure your investments abroad, to have a second country to move to in the face of political instability in your home country, or to secure your wealth, a second citizenship just might be the answer. As in the true nature of a sound investment, what you invest in the present will secure you in the coming years.